» Gridbox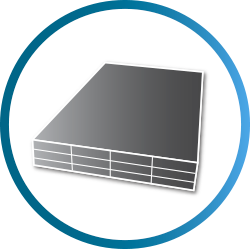 Key Information: Typical configuration:
Two 16 Core ( 64 bit ) processors (32 cores in total)
Usable data disk space 6TB
64GB Registered ECC Memory Operating System: CentOS 6.4
Sequential read 800MB/s
Sequential write 700MB/s
For full specification see Data Sheets
GridBox is a rack mounted, powerful, high performance server designed for complex processing environments.  It was developed to provide a distributed computing infrastructure specifically for a pan European project for reading and interpreting Mammograms but is suited to any application needing high power data processing or interpretation.
The scalability and performance of the GridBox, coupled with consistent reliability, make it ideal for ues in environments such as cloud hosting, database processing etc.
Typically the sequential read achieved by GridBox is 800MB/s, which is equivalent to reading the entire contents of the CD/DVD in approximately one second.