» Backup & Recovery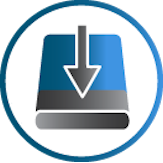 Business continuity in the event of a disaster is a major problem for all businesses and organisations, but even simply errors of deleting or overwriting files can cause serious disruption.
The configuration of the Zybert Z1 GEM servers with mirrored disks provides immediate access to the last backed-up version of files so recovery is full and immediate In fact the whole system takes less than 5 minutes for a full system recovery with applications, settings and files completed automatically.
No manual intervention is necessary!
Z1Gem has an automatically updated copy of your main disk.
The system has two backup disks identical to your main disk. One of them remains in the server (mirror disk), and the other we suggest is kept off-site or in a secure, fireproof location.
As data is encrypted it meets legal requirements for off-site transport
Once a week (or more often if you prefer) swap the 'off-site' disk with your 'mirror' disk. If your main disk fails, the second disk having been automatically kept up-to-date may be used instead.
The swapping process is simple, no more difficult than loading a CD into a PC or laptop.
Disk mirroring creates an archive which keeps a 'previous' version of every file that has been modified. As all modified and deleted files are archived and can be retrieved immediately, you are protected from accidental or malicious changes, making it easier for you to recover from mistakes.