» Private/Hybrid Cloud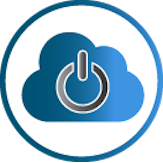 The mobile revolution where accessing and sharing data and information is fast becoming the norm in our business expectations, but how do SME businesses embrace mobile working without compromising their security and privacy?
Cloud computing should be the answer to this problem.
However in order to do this must you  entrust your data/information to big multinationals with their cloud solutions where, inevitably, you data will sit alongside others in a data centre instead of under your control in your own office.
There is an affordable alternative.
The Private Cloud.
Z1 GEM allows you to easily set-up a 'private cloud' in your own office. You have a full control over your files, email and databases which can be accessed with strong authentication and full security, and you maintain control over who can access what.
The Zybert server combined with SPOK access key using a USB, android or IOS app on mobile devices provides remote access to services on the Z1GEM and enables you to securely access other applications that exist on your office network, as if working in the office.
Users can access services like email, file sharing, remote desktop and security cameras.
Files, backup, emails are all encrypted
Security of your data is assured